Welcome to the bustling city of Charlotte, where luxury and adventure seamlessly intertwine. If you're in search of an unparalleled driving experience that combines the thrill of exploration with the comfort of sophistication, look no further than our exquisite collection of exotic SUV rentals. Charlotte, known for its vibrant energy and dynamic lifestyle, offers the perfect backdrop for indulging in the opulence of a high-end SUV. Whether you're here for business or leisure, navigating the city's streets, or venturing into the surrounding scenic landscapes, our range of exceptional SUVs for rent promises to elevate your journey to extraordinary heights. So, stop by our website today!
Rolls Royce Cullinan
The Rolls Royce Cullinan is a high-end SUV that offers exceptional speed and handling. The heart of the Cullinan is a powerful V12 engine displacing 6.8 liters and producing up to 563 horsepower at 5,000 RPM. With 627 lb-ft of torque available at just 1,600 RPM, you'll have plenty of oomph at your disposal. The 8-speed automatic transmission and all-wheel drive system allow for nimble handling and a close connection to the road. The Cullinan's front and rear stabilizer bars, in addition to the vehicle's four-wheel independent suspension, provide a smooth and comfortable ride over any terrain. For those who appreciate the finest things in life, this SUV is the absolute peak of luxury and performance.
Interior and Exterior Specs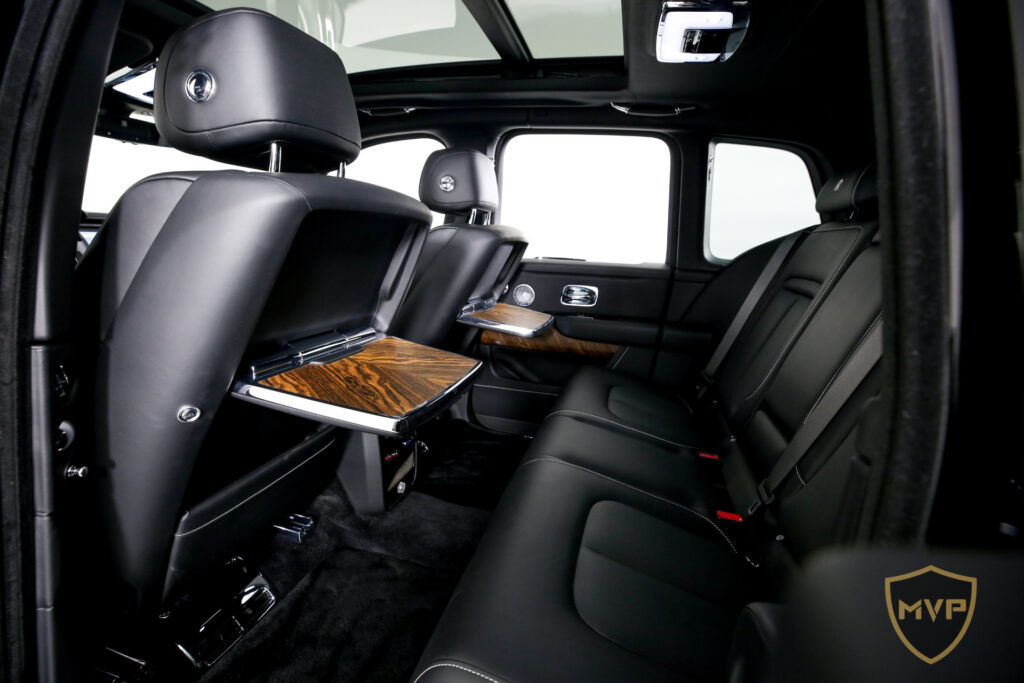 The Rolls Royce Cullinan is a luxurious and eye-catching SUV that features an exquisite interior filled with soft leather seats, sleek trims, and plenty of modern amenities. The exterior of this exotic rental is tastefully adorned with 22-inch painted alloy wheels, LED headlights, and a powerful side profile that will turn heads wherever you go. You'll be sure to make a lasting impression when you're behind the wheel of this impressive SUV.
Mercedes-Benz G 550
The Mercedes-Benz G 550 is an excellent SUV with a wide range of useful features. This vehicle's body-on-frame construction gives it an air of toughness and reliability. The G 550 is a powerful beast that can easily traverse any terrain thanks to its 4.0L V8 biturbo engine composed of lightweight aluminum alloy material. Its automated transmission and permanent four-wheel drive arrangement provide superior traction and stability. The Mercedes-Benz G 550 is the epitome of elegance and practicality with its roomy four-door layout and accommodation for up to five people.
Spacious Interior with Beautiful Exterior
The interior of the Mercedes-Benz G 550 is spacious and comfortable, with seating for up to five people. It features a luxurious design, complete with leather seating surfaces and trim pieces in Black lacquer. Other amenities include dual-zone climate control, heated front seats, and a power sunroof for extra ventilation during warm summer days. The exterior of this rental is enhanced by its classic design and powerful silhouette. It features a hood-mounted three-point star logo for added distinction, 20-inch multi-spoke alloy wheels, and LED headlights. With the Mercedes-Benz G 550, you'll be able to explore the city in style and comfort.
Bentley Bentayga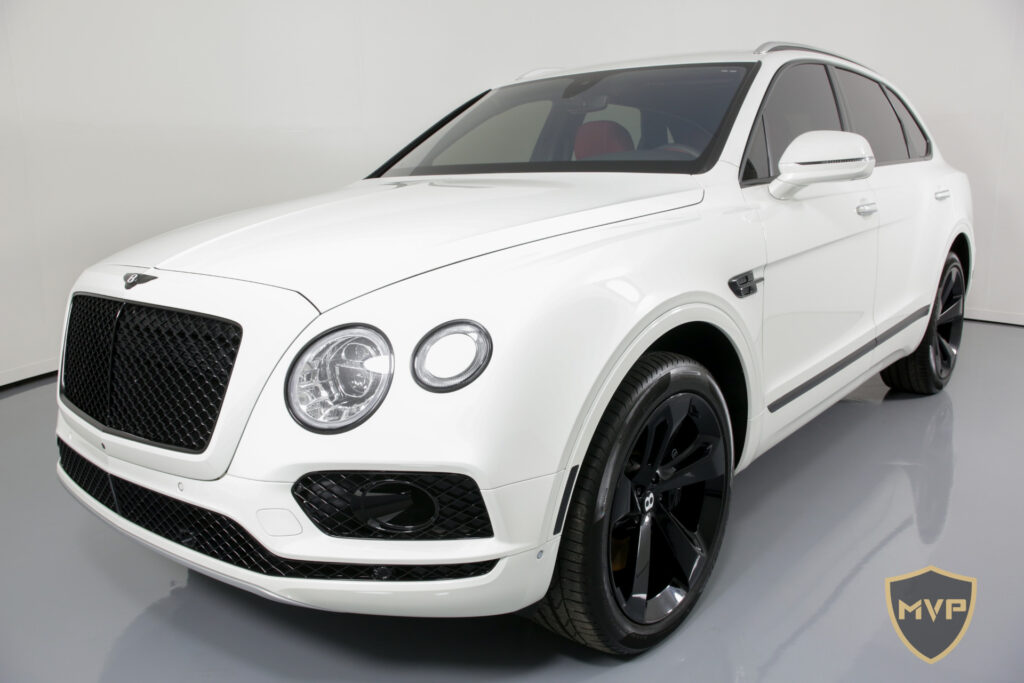 The Bentley Bentayga is an incredible technological achievement, as it is the world's fastest SUV, with a peak speed of 187 miles per hour. This stunning creature is driven by a 6.0-liter W-12 engine with two turbochargers and an eight-speed automated transmission that sends power to all four wheels. The Bentayga is an all-wheel-drive monster that pushes out an incredible 664 lb-ft of torque despite its relatively lightweight (5,379). Because it provides a unique blend of speed, power, and elegance, the Bentayga has quickly become a favorite among fans of high-end automobiles throughout the world.
Distinct Inner Space and Outer Look
Experience luxury and power like never before with the Mercedes-Benz G 550. Stand out from the crowd with its distinctive design both inside and out. Pamper yourself and your passengers in the elegant leather-swathed cabin, where comfort is paramount. Customize your ride with rear entertainment tablets and a powerful audio system that will transport you with 20 speakers and 1950 watts of pure sound.
On the exterior, command attention with the regal presence of the imposing matrix grille and exquisite LED-adorned headlights. Luxurious features like power-heated seats, park assist, Sirius Satellite Radio, and a navigation system elevate your driving experience. Discover why the Mercedes-Benz G 550 is the SUV of choice for those seeking unmatched luxury and power.
Lamborghini Urus
The Lamborghini Urus is a fast and powerful super SUV. It has a gas-powered V8 engine that is 4.0 liters in capacity and gives an unparalleled driving experience. The all-wheel-drive system is capable of providing powerful grip and stability on any surface, and the 8-speed automatic transmission makes shifting gears a breeze. The Urus provides the best possible ride and handling thanks to its four-wheel independent suspension and center and rear limited-slip differentials. Getting behind the wheel of this vehicle is unlike anything you've ever done before and will leave you with unforgettable memories.
The Trendy Interior with a Cool Appearance
With its lavish interior and exterior design, the Lamborghini Urus stands out from the crowd as something special. The doors swing open easily, making entry and exit a lot less of a hassle than in many bigger SUVs. The frameless windows and the finest materials used for each seat add to the upscale atmosphere. The central control panel is raised, drawing the eye. This type comes standard with four seats but may be upgraded to accommodate five passengers in relative comfort.
Standard LED headlights, adaptive headlights, cornering lights, and a tire pressure monitoring system are just a few of the stunning external elements found on the Urus. The vehicle's six driving modes allow for a smooth and individualized ride no matter the terrain, with three off-road modes that raise the body by 40mm and a track mode that lowers the body by 15mm.
Rent The Best SUV and Enjoy the Roads of Charlotte
All things considered, renting an exotic SUV in Charlotte is an experience that you won't soon forget. The Rolls-Royce Cullinan, Mercedes-Benz G 550, Bentley Bentayga, and Lamborghini Urus are among many vehicles that offer style, performance, and a luxurious feel that will elevate your automotive experience. With all of these SUVs to choose from, our rentals, and the amazing roads of Charlotte to explore, why not rent the best SUV today and enjoy every minute of it? Visit us or give us a call for more information about their rental services.